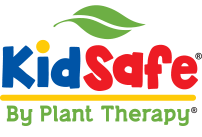 KidSafe by Plant Therapy is the first-ever line of essential oils developed especially for children.
Our Groundbreaking KidSafe Synergies. Formulated by Robert Tisserand for children ages 2–10, KidSafe features a variety of synergies and single oils targeted toward specific issues and ailments common in this age range. All are available as 100% pure, undiluted essential oils as well as pre-diluted roll-ons.
As parents ourselves, the Plant Therapy team wouldn't settle for anything less than absolute safety. That's why we invited the world's foremost expert on essential oil safety, Robert Tisserand, to create the KidSafe line. The level of research, testing and quality assurance that we put into developing our KidSafe line is unparalleled in the industry.
And not only are the oils 100% safe for children, they are effective too.
If you are looking for essential oils to use on your little one, there is simply no comparable product available on the market today!